Other Products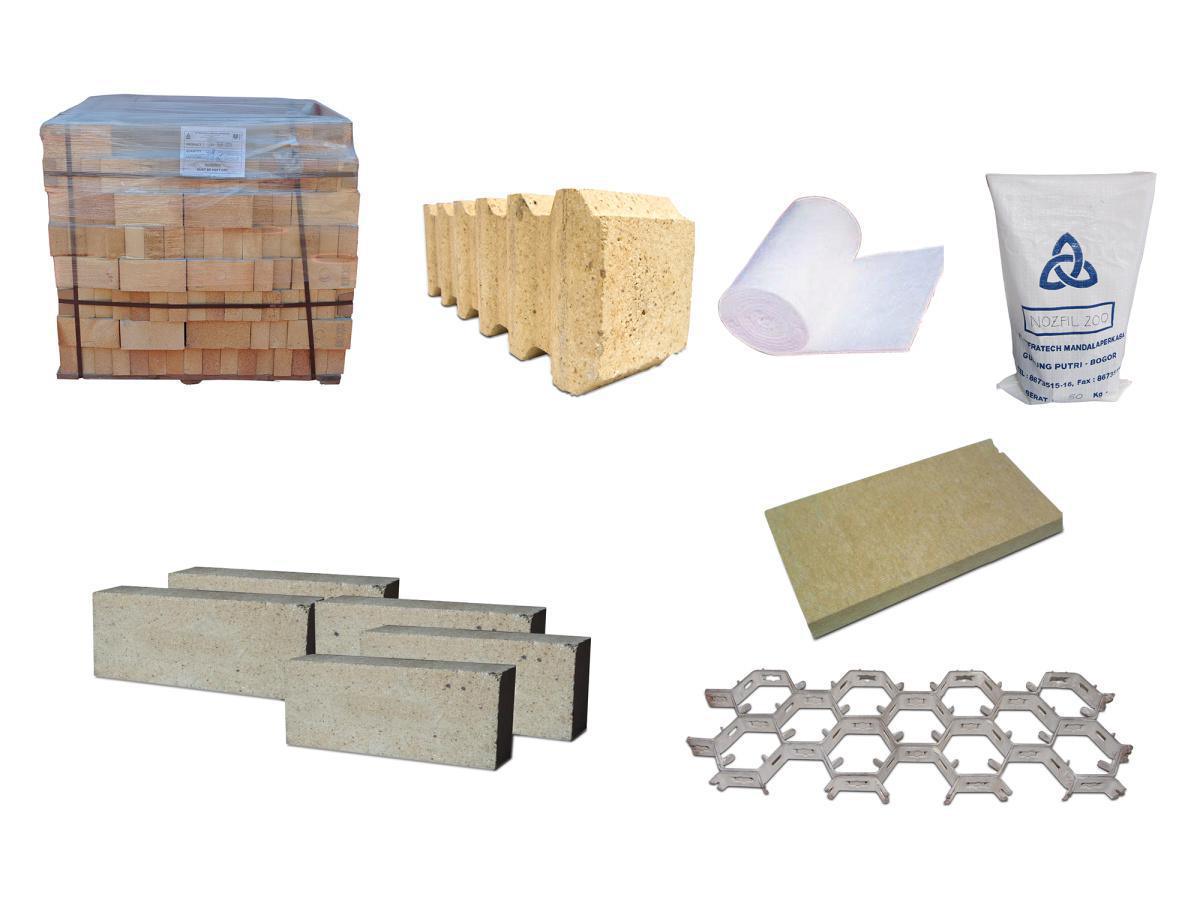 1. PRODUCT FOR STEEL MILLS APLICATION
2. INSULATING
- FIREBRICK
- SILICON CARBIDE
- MORTARS
- SPECIAL SHAPE PRODUCTS
3. CERAMIC FIBER
- BULK
- BLANKET
- BOARD
- PAPER
- MODULES
4. MINERAL WOOL
- BULK
- BLANKET
- BOARD
5. CALCISIUM SILICATE
- BOARD
- PIPE COVER
6. ANCHOR
- METAL
- CERAMIC
7. EXPANSION JOINT
Expansion Joint Fabric
FABRIC EXPANSION JOINT are flexible connectors designed to provide stress relief in ducting systems by absorbing movement caused by thermal changes. They also act as vibration isolators, shock absorbers, and in some instances, make up for minor misalignment of adjoining ducting or equipment.
Our fabric expansion joints are customized, engineered expansion joints. They are designed and built as per customer specifications and requirements in either circular of rectangular profiles.
Expansion Joints Metal
METAL EXPANSION JOINTS or Bellows are used to accommodate the movement of pressurized piping system caused by thermal growth, contraction, and small vibrations.
All expansion joints are designed to EJMA 9 or ASME as required. These bellows are used to carry various media, including steam, emission gases, water, acid, alkalis, and hydrocarbons.
8. JACKETING & GASKET
Thermal jacket is ideal for those who really feel the cold during autumn and winter whether used as an outer layer or worn underneath your waterproof jacket. These types of jackets are brilliant for freezing cold temperatures, as they offer a layer of body warming insulation that a waterproof jacket rarely offers. Insulated jackets have changed a lot over the years
Extremely effective and cost insulation solution for a wide range of power plant, refinery, petrochemical, oil & gas, pulp & paper, mining plant, fertilizer plant, food & beverages and other industrial applications.
9. LINING PTFE PRODUCTS
PTFE lined pipe used for medium characteristic strong acids, corrosive and in high temperature (< 260°C). PTFE Lined piping system combined between steel pipe and PTFE in risk chemical to maximal working piping system. Due to the inertness of PTFE to almost all chemicals and solvents, it acts as an effective barrier between the chemical and steel, thus not only protecting the conveying system, but also very friendly to the environment. PTFE Lined can be used in industry instrument like, Tank/Vessel, Spool pipe, pipe fittings, Blind Flange, Etc.
10. CHEMICAL PRODUCTS
JESS AR191 is descalers are safe on aluminium, black pipe, brass, bronze, copper nickel, iron, plastic, PVC, rubber, steel, titanium, fiberglass and stainless steel. All of our products are biodegradable and are safe for your workers/ customers if used properly. With oxygen scavenger, anti-scale and pH / alkalinity booster contained.